Made in America - Shawgrass by Dance Floor Custom Greens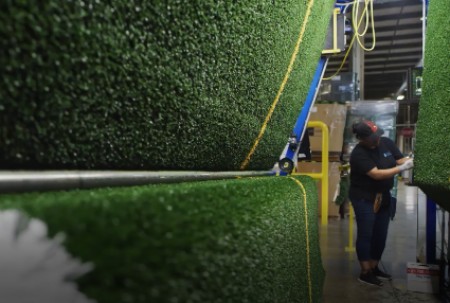 Shaw Turf is the largest artificial turf company internationally that is both American-owned and American-made. We believe this is necessary for our growth as a company, as well as important to you, the customer, searching for a new synthetic grass surface.
Shawgrass, a part of Shaw Turf, is happy to be American-owned and American-made, and we understand it makes a real difference to you, the customer.
One of the biggest and most respected businesses internationally, Berkshire-Hathaway, is the owner of Shawgrass.
The competitiveness of the US economy is, in a lot of way, contingent upon the competitiveness of businesses based in the United States. For more than 50 years, Shawgrass has worked to be one of the leading American businesses and the overall leader in the markets the company serves as well as in the artificial turf market.
We believe it is crucial, as an American-owned company, to preserve our distinctive customer service and quality manufacturing to provide us with a competitive edge in the market. With over 20,000 employees, it also lets us build flourishing communities by connecting neighbors in a community of economic and social relationships.
Company-wide decisions at Shawgrass are made at the local level, with careful consideration for the people affected by those decisions. We offer thousands of jobs and offer better wages and benefits to our employees.
Since you don't need to order our products from overseas, we are able to keep costs down, which enables us to supply our Sarasota customers with an excellent product at a decreased price, because of this, we are able to invest in research and development to provide innovation to the artificial turf business.
Being American-owned and American-made allows us to carry out our goal to create a better future for our clients, our people, our company, and our communities.