The History of Artificial Grass for Landscaping
The history and evolution of artificial grass for landscaping are owed to its ancestor – sports turf. Synthetic turf has come very far since the first synthetic fields were installed in the 1960s.
Today, a technically advanced surface is used per sport in order to give uniform performance for that exact sport. Even more, artificial grass has become a mainstay the landscaping industry for both commercial and residential projects.
The History of Artificial Grass for Sports
The entire industry dedicated to synthetic grass production was born in the 1950s as an idea to help improve inner-city youth's physical fitness.
Synthetic turf was installed in 1964 on a recreation area at the Moses Brown School in Providence, Rhode Island. That said, the first large synthetic turf project came to the public shortly thereafter, in 1966, when artificial turf was installed in the Astrodome in Houston, Texas. Following Astrodome's huge success, synthetic grass was popping up in other stadiums and schools as a staple to athletics programs across North America.
The hot shag carpet trend of the 1970s was followed by the synthetic grass industry with "shag turf." |Having longer grass blades manufactured from a more plush polypropylene material made them more user-friendly and visually appealing.
By its third generation in the 1990s, turf fibers had a much more soft polyethylene blade—this is the turf you'll see on any sports, residential, or commercial landscape today.
The History of Artificial Grass for Landscaping
The main focus on synthetic grass was within the sports industry for over 20 years. Then, in the early 1990s, the use of artificial grass in the arid, drought-prone Western U.S started becoming more and more popular.
This trend has been driven by the vast improvement of the variety and quality of available artificial turfs, along with the reduced maintenance cost compared to organic grass. Because artificial lawns may be a sizeable water conservation measure in municipalities where water usage may be a concern, many commercial building managers recognize the advantages of synthetic turf.
Where to Use Artificial Grass
Though short, the history of synthetic lawns certainly isn't lacking in creativity. Considering you no longer have to be concerned with sunlight, watering, or fertilizing artificial grass, turf is tailor-made for municipalities where natural grass will not grow well.
A few popular places for synthetic turf are:
Difficult slopes
Patio areas
High foot traffic areas
Hotels
Office buildings
Airports
Pool areas
Rooftops
Backyards
One of the best things about artificial turf is how creative you can get with it. New colors, pile heights, and shapes let you have a fresh look. Incorporating steppingstones, concrete slabs, and other designs within your turf are possible, also. The sky's the limit!
Organic Lawn Costs vs. Artificial Lawn Costs
While the history of artificial grass lawns may be short,|Yes, the history of artificial lawns may seem short, but it is absolutely more cost-effective than traditional lawns. Making the change from traditional grass to synthetic turf will give you the chance to control your landscaping budget.
Regular lawn maintenance requires frequent mowing, watering, fertilizing, seeding, pest control… the list goes on. If you have pets visiting the grass on your property, you are likely very familiar with the dead spots where Fido likes to relieve himself, too.
Even if you do work yourself, you're going to spend irreplaceable time away from the other things you could be doing instead—like spending time with family and friends or exploring your hobbies more.
Check out the chart below to see just how fast you will experience a return on your investment if you choose synthetic landscaping.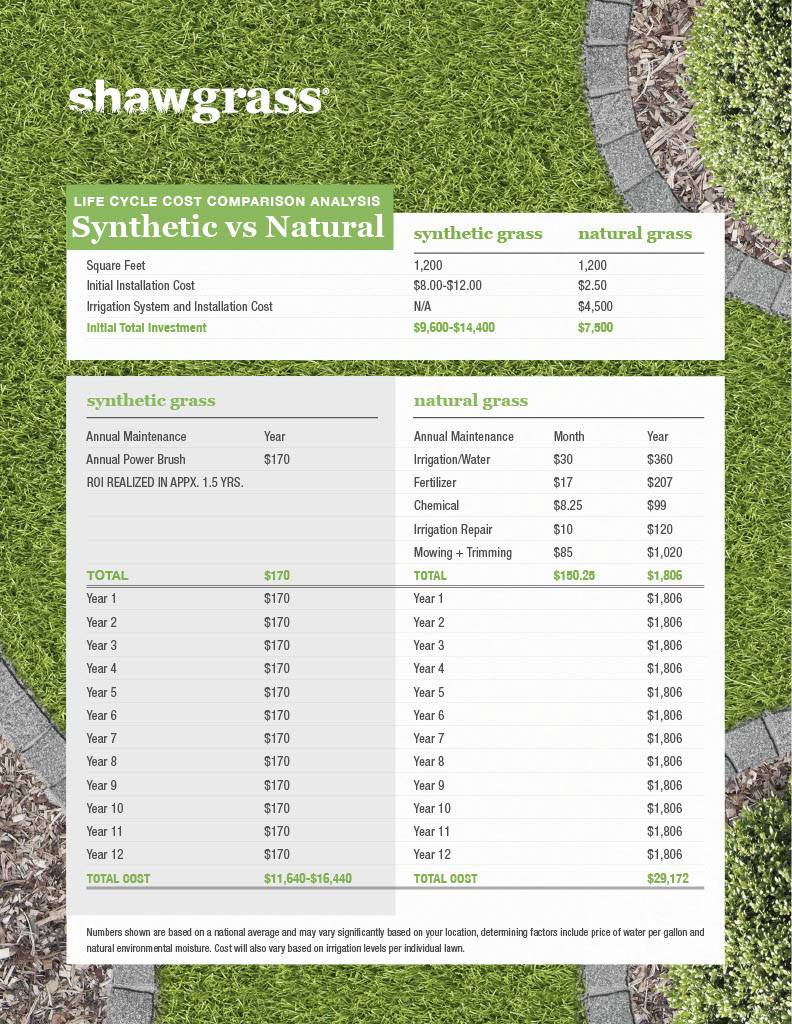 The Shawgrass Advantage
Shawgrass products are designed and developed by the same R&D team that make the industry leading athletic fields created by Shaw Sports Turf. Shawgrass products are made to give the look of natural grass and the performance characteristics that deliver absolute durability.
If you want to see and feel this grass for yourself, you can call us at 941-927-7888 or
contact Dance Floor Custom Greens
today.